Smartsheet is a cloud-based software solution that is extremely easy to use (same as Excel), very cost effective and provides some powerful tools such as conditional formatting and alerts/notifications, team collaboration and resource allocation. Here is our guide for Smartsheet for ISO 9001, ISO 45001 & ISO 14001.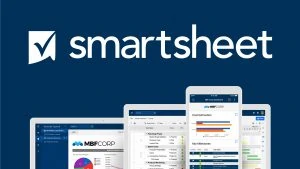 As ISO Consultants, we find Smartsheet is our preferred platform to develop Quality 9001:2015, Safety 45001:2018 and Environmental 14001:2015 Management Systems. It streamlines administrative processes associated with the maintenance of ISO business management systems and ensures information is kept current and accessible when and where it is needed.
Typically, we establish the following registers in Smartsheet to support Quality, Safety & Environmental Management Systems:
Document Register – centralised document storage with permissions to control read/write access as required. Reminders set to alert relevant personnel when document review is required.
Training and Competency Register – an improved version of the standard excel Training Matrix that can store employee details, licenses, qualifications, and competencies. Conditional formatting in place to identify when qualifications have expired or Verification of Competency is due.
Approved Suppliers & Approved Subcontractors – register of suppliers and subcontractors including business information, qualifications, insurances and performance history/data.
Risk Register – Threats/Hazards, Risks, Inherent Risk Score, Residual Risk Score, Responsibilities and Controls.
Equipment Test & Calibration Register – list of equipment requiring test, calibration, inspection including due dates, reminders and conditional formatting to provide a visual indication of status.
Plant & Vehicle Register – plant and vehicle information including service, registration, and insurances. Conditional formatting and reminders to ensure key dates are monitored and renewed prior to expiry.
Improvement Register – non-conformance, incidents & improvement opportunity registration, corrective action and action to prevent a recurrence. Responsibility allocation and identification of status.
Quality, Safety & Environmental Objectives Register – register of Quality Objectives, Safety Objectives, and Environmental Objectives along with performance data history.
Internal Audit and Inspection Register – schedule for managing all internal audit and inspection requirements. Copies of completed reports held on register and link to Improvement Register for any improvement items identified.
Any other registers required to support the operation of the management system eg Enquiries Register, Tender/Contract Register, Project Register etc.
---
---
To ensure the registers are updated with current information, a combination of Smartsheet Forms and Update Requests can be utilised. We highly recommend you review the possible functionality benefits to your business and consider a Smartsheet based ISO Management System.
For more information contact us, or see below for some links to the Smartsheet Software videos.